Approx. Sizes & Prices
REMEMBER: This is only an approximate guide based off average shirt graphic size.

Our goal is to preserve memories as unique pieces of art.
We recommend not focusing too much on finished quilt size.
Instead, use the shirts that have meaning and let the quilt be the size it naturally wants to be.
| SIZE | PRICE RANGE ($)* |
| --- | --- |
| Lap (9 – 14 shirt sides) | 176 – 221 |
| Throw (15 – 24 shirt sides) | 230 – 311 |
| Twin (25 – 30 shirt sides) | 320 – 365 |
| Full / Queen (31 – 49 shirt sides) | 374 – 536 |
| King (50+ shirt sides) | 545+ |
*Taxes may apply. This is the total cost and your deposit will be deducted from it.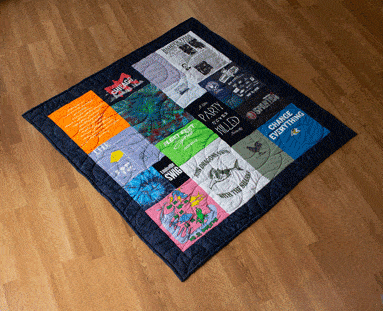 FAQ
At least five. The size of the quilt is determined by the number of shirt sides that are provided. We recommend that you focus only on using the shirts that have meaning and let it be whatever size it organically turns out to be. This also makes the process simpler for you.
We can use any fabric or article of clothing!
The front or back of a shirt. So, you can usually get up to 2 shirt sides from a shirt (the front & the back). We also call miscellaneous pieces "shirt sides" for pricing purposes, such as a sleeve, a handkerchief or pair of pants.
Our turnaround is currently up to 6 weeks, but we can always work with you to get it done sooner. If your quilt is for a graduation or Christmas gift, please get it to us as soon as possible to minimize stress and late fees. We may even need to stop accepting orders during these periods due to high demand.
No, please provide us the whole shirt. If you've already cut them, we can still work with them but pre-cut shirt sides might incur a fee per pre-cut item to account for the extra labor and material needed to make them usable.
No, the end result is much better without it. Stabilizer is uncomfortably stiff at first, and then breaks down and balls up over time.
By default we will design the quilt for you and balance the colors as evenly as we can throughout the quilt. If you have a specific design in mind, please let us know when you order it and send us a photo of the layout if possible. That said, we usually prefer it be left to us!
You can view our order page here. Leave a deposit for your order, get us your shirts, and we'll send an invoice for the balance before we ship. If you're near Louisville, feel free to drop your shirts off in person by scheduling an appointment. Or, if you are simply too busy, you can even schedule a pickup, and we'll come get it!
We will cut a square or rectangle from the side of the garment you designate (ideally by following our prep steps).

We use our best judgement to choose a usable size capturing the complete design element, ideally with an inch or two of blank space around the design and no cropping.

Some shirts may require extra work for a large variety of possible reasons, which can incur extra fees. Some examples include filling in the arm sleeves of a tank top so that we can fill out a full square to cut, or backing jerseys with another layer of material.
We only put the shirts on the front of the quilt and use high-quality fabric on the back. A quilt with shirts on the back cannot be machine quilted and tends to look sloppy.
When you order your quilt, simply indicate what you'd like embroidered (exactly as you'd like to see it). Font choices can be viewed here. Price is determined by the number of words and size, usually between $20-$30.
Yes, but we have found that one design works far better than the rest for t-shirt quilts. While other designs may seem good on paper, in practice our standard design is the least distracting in person and least likely to wrinkle the stretchy t-shirt fabric. Some may prefer to have no visible stitching across their shirts. This is very understandable but often results in saggy and dumpy looking quilts. This effect will be most visible in person and not in pictures (where a blanket may have been neatly spread out for presentation).
Yes. Please contact us beforehand to make sure you have enough fabric for the size of your quilt. There may be extra labor billed if your provided fabric requires it.